"FIRST" Program

Family

I

nclusive

R

ecreational

S

ocial

T

ime!

​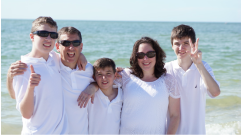 ​
Family comes FIRST at Learning Solutions! Organized community activities that family members may register for with their child(ren); and participate in with the support of our staff. Activities are scheduled periodically, and consist of experiences such as (but not limited to):
Horseback Trail Ride
Blue Hills Hike
Bowling
Kayak on the Charles River
​
FIRST Program activities are scheduled periodically throughout the calendar year, and open to current group students and their family members; as well as to clinically matched new students who have completed the Application/Intake process.
Contact us
for more information.
---
**Learning Solutions, LLC reserves the right to cancel or reschedule Social Tutorials due to low enrollment or unforeseen circumstances.