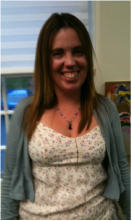 Erin Sullivan, M.Ed., LMHC
Mental Health Counselor/
Social Learning Clinician
Erin is a Licensed Mental Health Counselor (LMHC) with more than 11 years experience working with students. Erin completed both a Bachelor's and Master's degree in Counseling Psychology, and is professionally licensed as a LMHC, School Adjustment Counselor K-12, and School Guidance Counselor K-12.
Throughout her career she has provided therapeutic and educational services to diverse populations of students across school, community, and home environments. Her vast experience spans ages 5 through 22 years. Erin has developed Youth curriculum for "Body Safety Theater" sexual abuse prevention programs implemented by Community organizations and schools. Erin specializes in issues related to the development of young girls/teens; and behavioral counselling and intervention with Middle and High School students struggling with impulsive behavior.
Erin works for a Collaborative Educationall Program in MA as a School Adjustment Counselor for youth challenged by emotional/behavioral/learning disorders. As well, she continues her work with Community organizations facilitating social strategy and youth relationship groups. At Learning Solutions, Erin facilitates Social Learning Groups as a Lead Clinician.
Contact Erin at
esullivan@learningsolutionsforme.com
---